Are you feeling overwhelmed by the ever-growing world of digital marketing jargon? Don't worry, youre not alone. For those new to the game, understanding SEO can be intimidating and confusing.
Thankfully, this guide demystifies all the complex terms so that even beginners can understand what search engine optimization (SEO) is and how it works. It, will provide an overview of SEO basics and explain why it's so important for your online success.
So whether youre just starting or looking to brush up on your skillset, come along with us as we explore the fundamentals of SEO!
Getting Started with SEO: A Guide for Beginners
Getting started with SEO may seem intimidating at first, but it doesn't have to be. This guide will help beginners understand the basics of search engine optimization (SEO) and demystify digital marketing jargon.
From understanding why SEO matters to learning how to target keywords for maximum visibility, this beginner-friendly guide covers all the fundamentals of SEO. For those new to digital marketing, there are a few key concepts that are important to understand to make the most out of your SEO efforts.
First and foremost is content—a successful online presence depends on great content that's optimized for both users and search engines alike. Content should be written with an audience in mind; consider who youre writing for and what they want from your website before you start crafting copy.
Additionally, when creating content keep keyword research in mind; choosing relevant words or phrases that potential customers might use can significantly increase organic rankings over time. In addition to making sure your content is accessible and engaging for readers, it's also important to pay attention to technical details like page load speed or meta descriptions as these can affect how easily users find your site through search engine results pages (SERPs).
Making sure images are properly labeled and titles are well-structured helps ensure that a website appears high up on SERPs which then leads more people towards discovering its contents organically – something known as organic traffic. Optimizing URLs also helps boost visibility so take some time now and again to audit them periodically too! By familiarizing yourself with basic SEO principles such as optimizing title tags, headlines, meta descriptions, etc., getting started with SEO becomes much easier – even if you're completely new to digital marketing or don't know where else to begin! By following this simple guide you'll soon become proficient enough at navigating the world of online advertising jargon without feeling overwhelmed by complex terminology or disappointed by lackluster results from ineffective strategies.
Good luck!
Breaking Down the Basics of Search Engine Optimization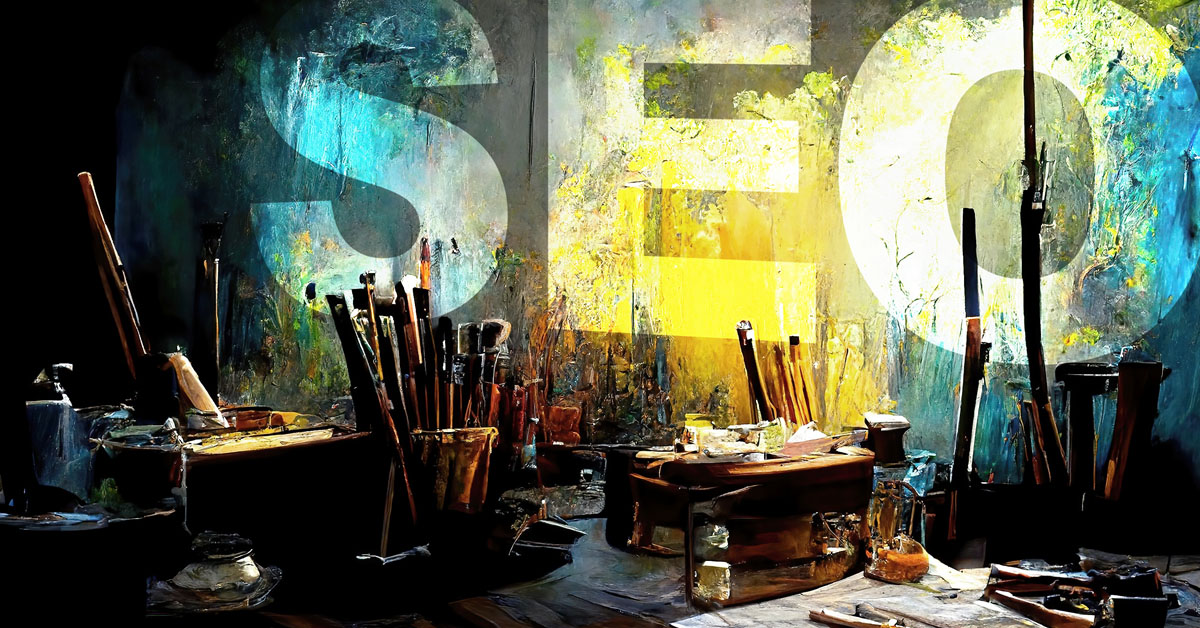 Search engine optimization (SEO) is a key element of digital marketing that many businesses have started to focus on. This article will break down the basics of SEO and explain how it can help you achieve success with your online presence.
Understanding what SEO is and why it's important is essential for any business looking to increase their visibility online. Put simply, SEO aims to increase organic search engine traffic by improving website rankings in search engines such as Google, Bing, or Yahoo! There are several things businesses need to consider when optimizing their websites for better results.
Firstly, keyword research needs to be done to identify relevant terms people might use when searching for information related to your business's products or services. Once the keywords have been identified they should be integrated into the page titles, meta descriptions, and content of each web page so that search engines can easily recognize them and rank pages accordingly.
Additionally, other aspects like HTML tags can also factor into rankings; this includes using header tags which are used by search engine crawlers as an indication as to what content belongs where on a page – making sure these are properly structured helps improve visibility too! Furthermore, external link building plays an important role in creating higher quality backlinks leading from other websites directly back to yours; this builds trust with both customers and search engines alike – resulting in improved ranking performance over time. It's also worth noting that having regular updates made on your website is another way of increasing its relevance within searchers' queries – making sure there's fresh content posted regularly will keep visitors engaged while helping boost overall ranking potential as well!
Unlocking Digital Marketing Lingo and Terminology
Digital marketing is full of jargon and terminology that can be difficult to understand. However, unlocking the secrets behind these terms can help newcomers get acquainted with the world of SEO quickly and easily.
In this article, we will break down digital marketing lingo into simple concepts so beginners can find their footing in understanding how to use Search Engine Optimization (SEO) for their business or blog. Well, explain the most important terms, such as keywords, backlinks, crawl ability – and more – so you feel confident in your ability to navigate digital marketing fluently!
Mastering the Art of SEO to Enhance Your Website Ranking
Mastering the art of SEO is essential for any digital marketing strategy. While often seen as a complex and intimidating topic, understanding a few key elements can go a long way when it comes to improving your website ranking.
From optimizing keywords to creating sitemaps and backlinks, gaining insight into search engine optimization will help you stay ahead of the game in an ever-evolving online world. With intelligent content creation being more important than ever before, brushing up on your SEO knowledge could be just what you need to give your website that extra edge over the competition.
Whether you're new or experienced with SEO techniques, staying informed about best practices and trends will ensure your web pages are seen by as many people as possible – so take note!
Understanding Keywords and How They Impact Your Rankings
When it comes to SEO, understanding keywords is essential for success. Keywords are words or phrases that a user might type into a search engine when looking for something specific.
When optimizing content and webpages, the goal is to use keywords strategically to boost rankings on major search engines such as Google and Bing. For beginners, having an understanding of how these terms work together can be daunting.
It's important to remember that keyword selection must be done with care; using too many irrelevant terms or not enough relevant ones can lead to lower rankings or even getting penalized by Google's algorithms. To get the most out of your efforts, you need to know what types of keywords will give you the best results and which ones should be avoided at all costs.
The key is finding keywords with high relevance and low competition – this means they are more likely to appear higher in search engine result pages (SERPs). Additionally, researching related topics helps identify other potential areas where valuable traffic could come from – like long-tail searches which target users who may have already narrowed down their query but still haven't made a purchase decision yet! Finally, creating quality content around those selected topics increases the chances of appearing higher up SERP rankings due to the increased relevance associated with them.
In conclusion, understanding keywords and how they impact SEO is necessary for any beginner digital marketer looking to optimize website visibility online – selecting the right words could mean the difference between success or failure in reaching potential customers through organic channels!
Conclusion
Search engine optimization (SEO) can be a daunting task for the uninitiated, but it doesn't have to be. With an understanding of digital marketing jargon and how search engines work, anyone can begin to make progress in SEO.
Working with an experienced SEO agency is recommended for those who want to get the most out of their efforts, as they will provide expertise and guidance that will help you reach your goals quickly and effectively. Investing in SEO now could pay off tenfold down the line; after all, nothing beats free organic traffic from Google!